State of the Art Facilities
Get an appointment online!
Please read our COVID-19 Protocol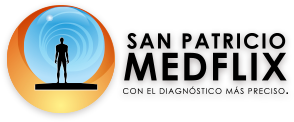 Innovation and cutting edge technology meet comfort and relaxation
Radiologists are the only doctors specially trained in the diagnosis and care of patients through medical studies of imaging detection.
For more than a decade, San Patricio MEDFLIX has had the privilege of successfully delivering advanced imaging services to the Puerto Rican community and neighboring countries.
San Patricio MEDFLIX, as part of its social responsibility, supports nonprofit institutions, educational institutions and sports institutions.
Would you like to schedule an
appointment?
Now you can make appointments online with
San Patricio MEDFLIX.
See clinical cases of the work we do.